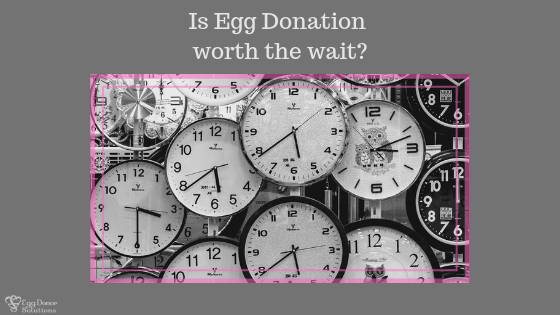 Becoming an egg donor is not as easy as it sounds. Many are surprised that it demands so much time, commitment and flexibility. It can be time-consuming and overwhelming- filling out and updating your egg donor profile, providing extensive personal and family information. There is paperwork to sign, medical and psychological tests to take, among other responsibilities. When matched, you need to commit to many appointments including some very early morning ones. You will take self- administered hormonal injections for 2 weeks undergo a surgical procedure on retrieval day.
However, the most challenging part of becoming an egg donor isn't necessarily the application, the morning visits to the clinic, or the needles and shots. The hardest part for donors is having to wait. Wait for your application to be approved, wait for news that you've been chosen for a cycle. Furthermore, the most crucial wait of all, once going through the process, is waiting for news that your donation was successful. The whole process, from beginning to end is a huge commitment that is taken very seriously. It may leave you with self-doubts and questions if becoming an egg donor is really worth it after all. Although, because of you, a couple who had likely experienced several failed attempts at conception finally had their shot at having their own children. You have no idea of how happy they are when they finally find an egg donor who is a perfect fit and who can provide them that glimmer of hope to having their children.
You may not have witnessed their tears of joy when they heard the news that they were finally pregnant. You may or may not have heard back from them, personally thanking you for the best gift they've received. It may never cross your mind that the couple you just helped (or about to help) will be thinking of you, forever grateful for your act of kindness and generosity. Your gift was more than enough. We hope that you realize that. To a stranger who wanted nothing more than to have a family, you are more than just an egg donor. You are and will always be their answered prayer.
I understand how you feel, like you, I was an egg donor too. I relate to what you are going through, the same way I can relate to how Intended Parents feel. And if I could do it again, I would. It has been life- changing! To the potential egg donor reading this, please remember you are amazing and the wait is worth it! From all us from Egg Donor Solutions, thank you!
https://www.pinterest.com/pin/544583779943418456
We help Intended Parents Create Happy Families via Egg Donation & Surrogacy  with the help of caring Egg Donors & Surrogates.
What is Egg Donation, Can I be an Egg Donor, Egg Donation Process, Common Egg Donation Questions, Becoming an Egg Donor,  Qualifying as an Egg Donor,  Egg Donation, Egg Donor process,  Why to go through an agency?,  Egg Donation Overview.