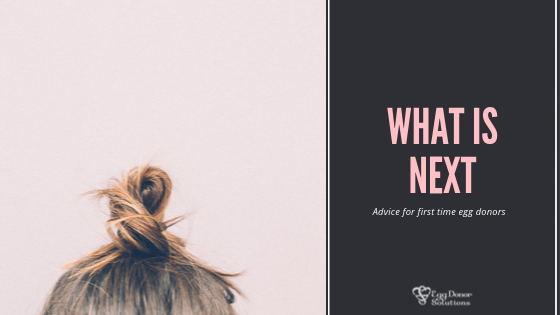 We at Egg Donor Solutions are excited to have you on our team. Finally, after going through the long screening process, you must be feeling a little bit of everything: excitement, curiosity and maybe a little bit lost and anxious. These feelings are normal. As new egg donors, it's important to be informed and realistic about the journey you are about to take part in. What's next, you ask? Don't worry, we have your back. Let these steps guide you.
Step 1: Watch our short video and sign up for an initial interview. Once your application has been approved, it does not end there. We prepared a short video explaining initially where you are in the process and what to expect. After viewing the video, you will need to set up a one-on-one phone interview with one of our Care Coordinators ASAP. It's our way of welcoming you and getting to know you. Together, both of you will go over your profile and see if your profile has room for improvements. Consider their suggestions, and make the changes. This is also the best time to ask questions. Don't be shy. If you get jittery during this, you can always write your questions on a sheet of paper and voice it out during the interview. We would be more than happy to answer your concerns, it's no trouble at all.
Step 2: The waiting begins. As much as we want to give you the good news that we've found you a match, most often times, you'll need to wait. Getting matched can take a few weeks, sometimes it can take much longer. We have many potential Intended Parents looking for egg donors all year round, however, picking the right donor may take some time for our IP's to come to a decision.
Step 3: Prepare for the best. While waiting, this is the best time to prepare yourself (mentally, physically and emotionally). Eat healthily, refrain from taking too much alcohol, NO to nicotine, and drugs. Engage in activities that make you feel your absolute best. Seek support from an egg donors group, from family and friends. Nothing can go wrong with a positive outlook.
Step 4: Update your Egg Donor Profile regularly. Updating your Egg Donor Profile every 6 months is crucial. Have you relocated and taken a new job offer? Took new classes or completed a degree? Are you expecting or just gave birth? Are you on medication? Have you smoked over the last few months? These are just a few important things that need to be updated on your profile. Please let us know. Most important, keep your profile picture current. Just because you haven't been chosen yet does not mean Intended Parents are not viewing your profile. It's just a matter of time.
Step 5: Communication is the key. Be responsive. Always keep communication open. We can't emphasize enough how important it is to communicate with us and keep us informed. Responding to our calls and emails is a must, especially during a cycle. So much is at stake, yours and potential Intended Parents as well. If you have lost interest, let us know. We respect that and understand that it happens.
We hope these steps inspired you more to take part in this special journey. We appreciate you. For added readings, visit us. As the saying goes: Patience is not simply the ability to wait – it's how we behave while we're waiting.
Save for later: https://www.pinterest.com/pin/638807528379274441
We help Intended Parents Create Happy Families via Egg Donation & Surrogacy  with the help of caring Egg Donors & Surrogates.
What is Egg Donation, Can I be an Egg Donor, Egg Donation Process, Common Egg Donation Questions, Becoming an Egg Donor,  Qualifying as an Egg Donor,  Egg Donation, Egg Donor process,  Why to go through an agency?,  Egg Donation Overview.