1 in 8 couples is diagnosed with infertility.
It is our mission to ensure we can educate, support and assist the families that are affected by this staggering statistic.
Egg Donor Solutions and Surrogate Solutions were privileged to participate as walkers as well as sponsors for the RESOLVE Walk of Hope in Houston, Texas this past weekend.
The one mile walk helps to support local programs including public awareness initiatives, support groups, and education events to help ensure everyone can build their families, no matter what.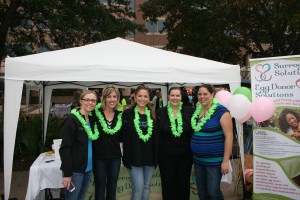 RESOLVE has additional Walk of Hope Events in Scottsdale, Arizona and Washington, DC this year. We encourage you to get involved if you can!
For more information on RESOLVE or to find a support group near you please visit their website at www.Resolve.org

We help Intended Parents Create Happy Families via Egg Donation & Surrogacy  with the help of caring Egg Donors & Surrogates.
Donor sibling registry, egg donation process, Egg Donor Solutions, Intended Parents, Why use an agency?, Intended Parent Resources, Intended Parent Webinar, Getting started, Why our agency?, Selecting your donor.