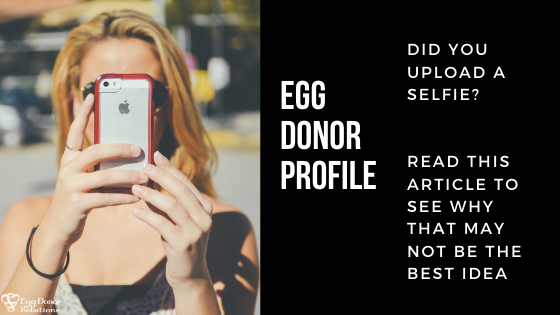 As an egg donor, it's important to understand that adding good quality photos increases your chances of getting selected. This is because it's the first thing potential Intended Parents will see. Either your profile picture will catch their interest, or they move on to the next. If you are wondering what kind of photos are needed, this blog is for you. Here are a few things to consider:
Add a lot of photos. You are given 25 available slots. Use these frames to your advantage. Add as many photos you can provide. Ranging from babyhood, early childhood, teenage years up to your current. If you have photos for each stage, the better. However, we understand that due to some reasons, not everyone can provide all photos. That's okay. This does not disqualify you. Just add as many current photos you can find. Also, include photos of your family, friends, pets as well as important events and skills you are proud of. Your photos should always reflect who you are and what is important to you.
Not just any kind of photos. Use good quality photos. Seeing snippets of your smiling picture can influence Intended Parents to click on your profile to get a better view. The right profile picture should not only catch their interest, but it should also make a connection as well. So, refrain from adding blurry pictures with poor lighting. Go for good quality photos. If you have old pictures, taking a screenshot of the actual picture may or may not work. You can scan them instead for better results. If you need assistance, send us an email and we would be more than happy to assist you.
Oh yes, we've all taken that selfie with pouty lips some way or another. Who hasn't? Thanks to the smartphone, capturing life's moments is a breeze. It's just a matter of clicking and striking a pose. But often, many of these selfies does not end up as flattering as planned. Especially when taking headshots. It just does not work… it's always best to have someone take it for you. Especially if you are planning to add these photos to your egg donor profile.
Before uploading, be reminded of the following requirements:
-Dress appropriately. Wear modest clothes that compliment you.
-Don't add selfies. Have someone take a few photos of you. This way, you'll have a full view of your whole face, not just your forehead, or half your face.
-Smile and smile some more. It's your best accessory.
-Photos must reflect your current appearance.
-Keep photos straight (not tilted) and include your whole face.
-You must be the only person on the photo.
-No hats, no sunglasses, no car seat belts
–Again, please, no selfies, no filters, or any special effects. Those butterflies and flower crowns do look pretty cute but Intended Parents might find it distracting.
Upload and click. Great. You now have all your photos. It's time to upload them. To upload, simply click the box labeled as CHOOSE FILE. Click, and choose your desired photo. It should not take more than a few seconds to load. If you have issues, such as it won't load or save, your pictures may be too big. Send us an email and we would be happy to assist.
Label all your photos… but don't include your name. This should always remain anonymous. Give your age for each photo added. If it's a group picture, indicate where you are and who the other people are. No names needed.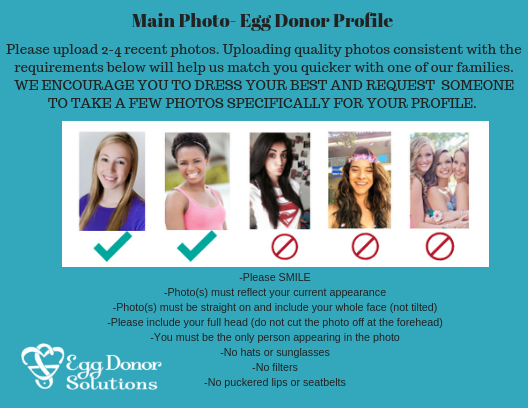 Congratulations! You should have a great profile by now. We would love to find you a match the soonest. The best advise we can give is for you to work on your profile, make it as detailed as possible, add good quality pictures that show your personality, and consider adding a short video. By doing this, your profile will stand out, and get more views. It's just a matter of time.
We help Intended Parents Create Happy Families via Egg Donation & Surrogacy  with the help of caring Egg Donors & Surrogates.
What is Egg Donation, Can I be an Egg Donor, Egg Donation Process, Common Egg Donation Questions, Becoming an Egg Donor,  Qualifying as an Egg Donor,  Egg Donation, Egg Donor process,  Why to go through an agency?,  Egg Donation Overview.