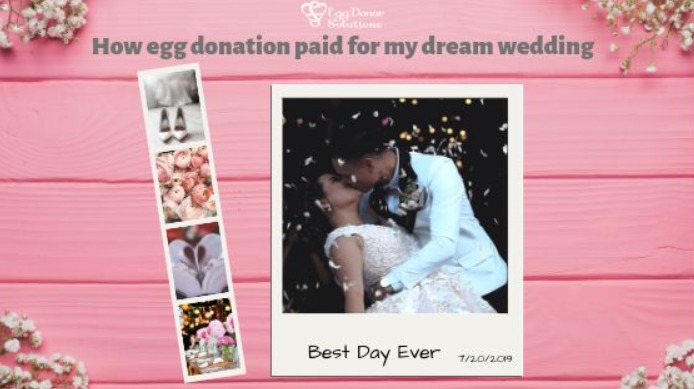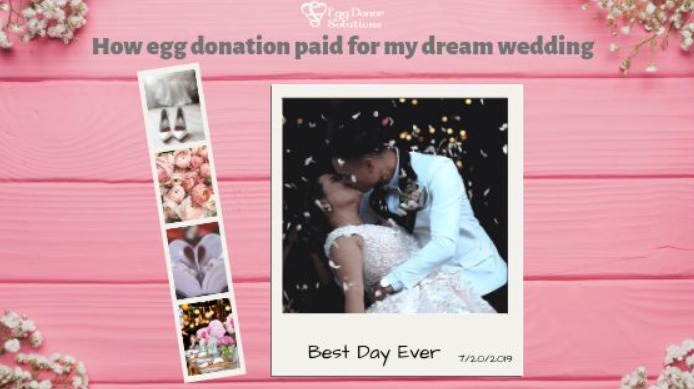 My name is Blaire and I just paid off my wedding being an egg donor. I was talking with my roommate a few months ago about all of my bills and that I had no idea how my fiancé and I were going to pay for our wedding.
She asked me if I ever considered egg donation. At first, I thought she was joking, but she then told me that she has donated several times and is now debt free because of egg donation. She told me more about how the process worked and all that it entailed. So, I did some research of my own and applied with Egg Donor Solutions. Thankfully, I was approved.
A few months went by and I got a text from Meg (Egg Donor Solutions Match Coordinator) to let me know that there was a set of intended parents who were interested in using me as their egg donor. I remember it so vividly. I was standing in my kitchen when my phone buzzed! I was so excited I almost dropped my phone in the cake batter I was preparing. I immediately took a screenshot and sent it to my fiancé.
After an initial phone call with Meg later that night, I was officially matched! The clinic was quite close to me and I was required to attend about 8 medical appointments which were all simple and fast. I work a basic 9-5 job and I was able to have my medical appointments before going to work. However, my job was aware and was more than willing to be flexible with me.
During each appointment I had some blood draws, ultrasounds, and routine physicals. Once we were good-to-go, I started on my hormone injections that I took every night for about 18 days or so. After my levels & lining were perfect, we scheduled our egg retrieval day. This whole process was very educational and quite simple. We found out this week that the retrieval was successful & the parents are pregnant! I am honored to have helped create a family through egg donation. I want to share with others that this process helped create a family, but it also helped me & my fiancé. In just a few short months, I get to walk down the aisle towards the love of my life with a debt-free wedding! I enjoyed the process so much that I will donate my eggs again and definitely with Egg Donor Solutions!
Save for later https://www.pinterest.com/pin/544583779943721723
We help Intended Parents Create Happy Families via Egg Donation & Surrogacy  with the help of caring Egg Donors & Surrogates.
What is Egg Donation, Can I be an Egg Donor, Egg Donation Process, Common Egg Donation Questions, Becoming an Egg Donor,  Qualifying as an Egg Donor,  Egg Donation, Egg Donor process,  Why to go through an agency?,  Egg Donation Overview.