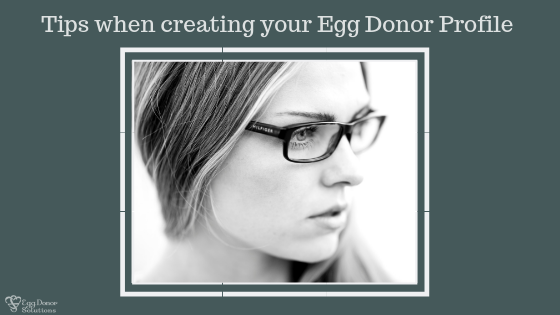 Your Egg Donor Profile is the very first glimpse Intended Parents will have of you. This is the reason why it is important to create a profile that is both honest and engaging. Aside from making a good impression, how well you present yourself on your profile will be the first connection you will share with Intended Parents. That special connection will be their deciding factor in choosing you or not. So here are a few things to consider when creating your Egg Donor Profile.
Tip #1. Don't be overwhelmed.
Don't let the amount of information on the application form overwhelm you. Go over it carefully and take it one section at a time. If you need more time, you can always come back later to complete the application, however, don't leave it incomplete for too long! We might think that you are no longer interested. If you are really stuck, please do not hesitate to reach out to us, we'd be more than happy to help.
Tip #2. Honesty is the key.
Please do not lie or leave out ANY information- even if you are afraid it may look bad on you. Most people looking to build their family via egg donation understand that not everyone is perfect and appreciate the authenticity you reflect by sharing everything in your profile. And—anything on there that may be less than stellar- does not mean it will disqualify you; however, catching you lying or finding out later important details were left out will.
Tip #3. Elaborate and give details.
We understand there are a lot of questions and it will take some time to be thorough in completing the application. Giving one-word answers won't help you make a connection with potential Intended Parents. Instead, the lack of details makes potential IPs lose interest. Don't be afraid to elaborate on your answers. It will make you stand out. Our Intended Parents need to understand who you are, and this is your chance to show them. Be authentic and show your personality by telling them more about your family, your children if you have any, your passions, your goals, and things you like and don't like. They are looking for that link, that specific characteristic, that personality, interest/hobby you may have in common with them. Don't be afraid to express yourself.
Tip #4. A picture is worth a thousand words.
Your picture tells your story. With the right photos, it creates the right impact. Adding photos of you ranging from infancy and through your childhood, to your present stage gives potential IP's the chance to appreciate who you are. Your profile can include photos of your family, friends, and significant skills and events you are proud of. Choose a profile picture that catches your natural beauty. Choosing good-quality pictures shows that you are taking this process seriously.
Tip #5. Review and edit your profile
Review and edit your profile. Check for errors. Make sure that you have answered everything on your profile and in detail. Ask a friend, a family member or anyone you are comfortable with to read your profile. Most importantly, follow up with your parents, grandparents, and or Aunts/Uncles to ensure your family health history information if accurate. It is worth the extra effort.
Don't let the thought of creating your egg donor profile stress you out. For added information, visit our website.  Most of our team have been egg donors before.  We would be happy to share with you our experience of completing an application to become an egg donor and/or helping you learn more to decide if egg donation is right for you.

We help Intended Parents Create Happy Families via Egg Donation & Surrogacy  with the help of caring Egg Donors & Surrogates.
What is Egg Donation, Can I be an Egg Donor, Egg Donation Process, Common Egg Donation Questions, Becoming an Egg Donor,  Qualifying as an Egg Donor,  Egg Donation, Egg Donor process,  Why to go through an agency?,  Egg Donation Overview.